Learn how to connect your APP to Loomo in different scenarios so that you can use more APP operations and learn more about the functions of the APP.
How to Judge What Kind of Connection Mode the Robot Is in
Before conducting connection in different ways, you need to select the corresponding connection mode for Loomo. Click on the screen under the robot's eye interface to enter the function menu. The icon in the upper left corner indicates the current connection mode.

  indicates hotspot connection mode;  

 indicates Wi-Fi mode.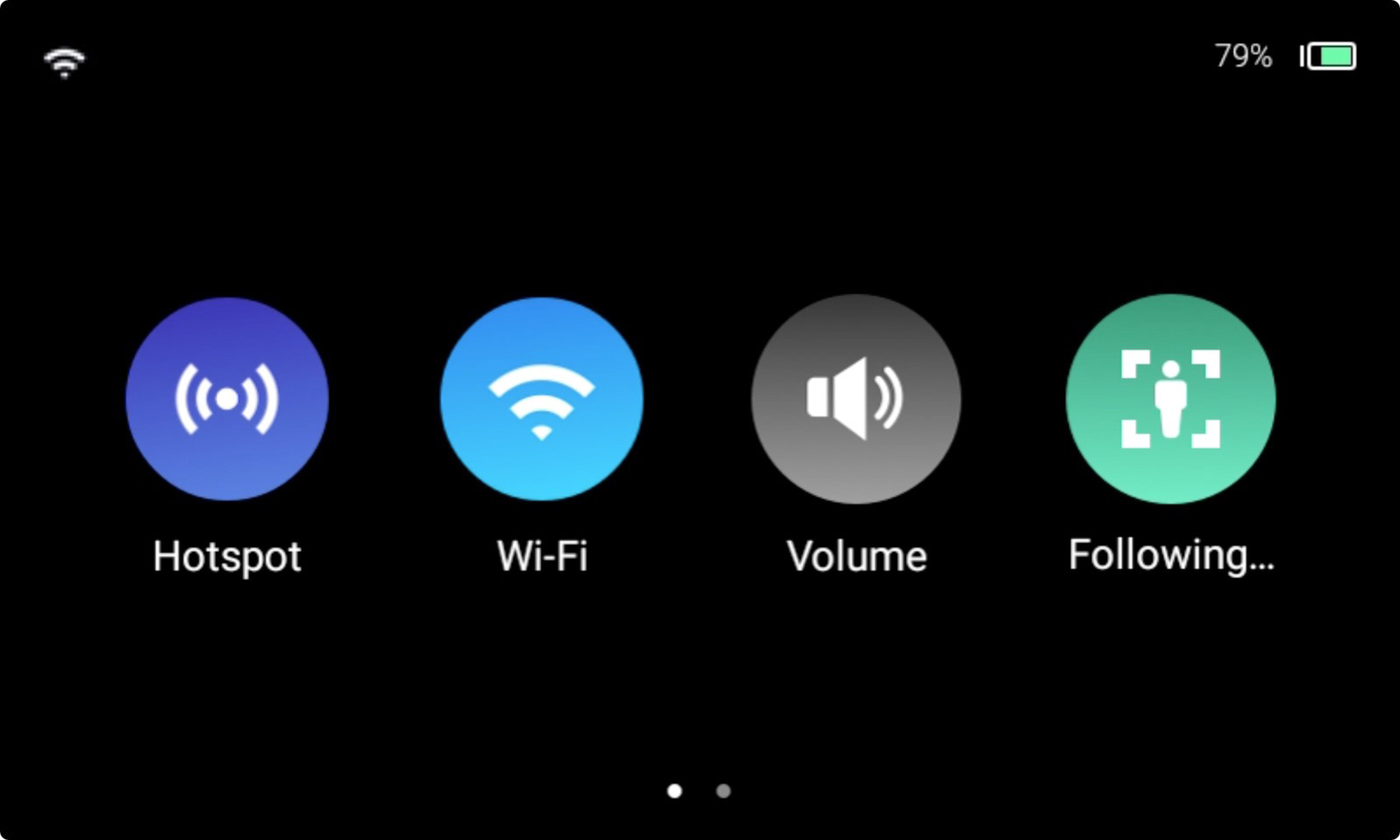 In the Wi-Fi Network Environment
We recommend that you use Wi-Fi mode to connect your mobile phone to the robot in a Wi-Fi network environment.
If you need to use the Wi-Fi mode for connection, please first ensure that:
Loomo and the mobile phone that needs to be connected to Loomo are on the same Wi-Fi network;
The Wi-Fi mode has been enabled for your Loomo;
It is recommended that you always upgrade your mobile phone and robot to the latest version;
If you have not turned on the Wi-Fi mode, please perform the following operations:
Click Loomo's screen to enter the function menu;
Find the Wi-Fi mode application in the menu and open it.
Click the "Turn on the Wi-Fi mode" button on the interface.
You can switch to the Wi-Fi mode on Loomo's main application interface. To achieve connection in this mode, please ensure that your mobile phone and Loomo are connected to the same Wi-Fi. Check how to connect to the network.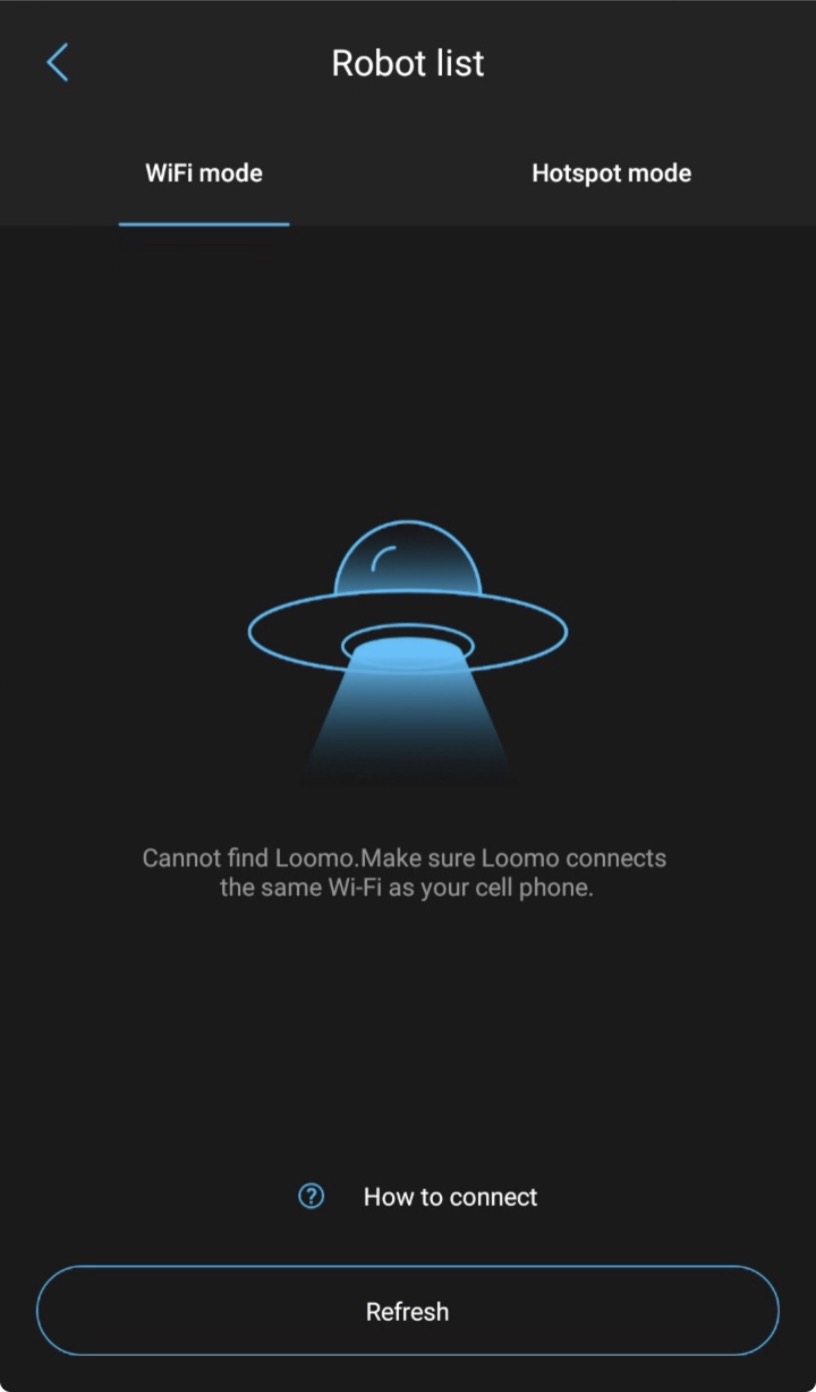 After connecting to the network, you can search your device in the Wi-Fi list on your mobile APP. Click Connect.
Connect to Loomo without Wi-Fi
In an outdoor environment and other environments without Wi-Fi, you can use the hotspot connection mode for your normal use of Loomo. Please switch to the hotspot mode on the main application interface of Loomo and follow the prompts on Loomo's screen.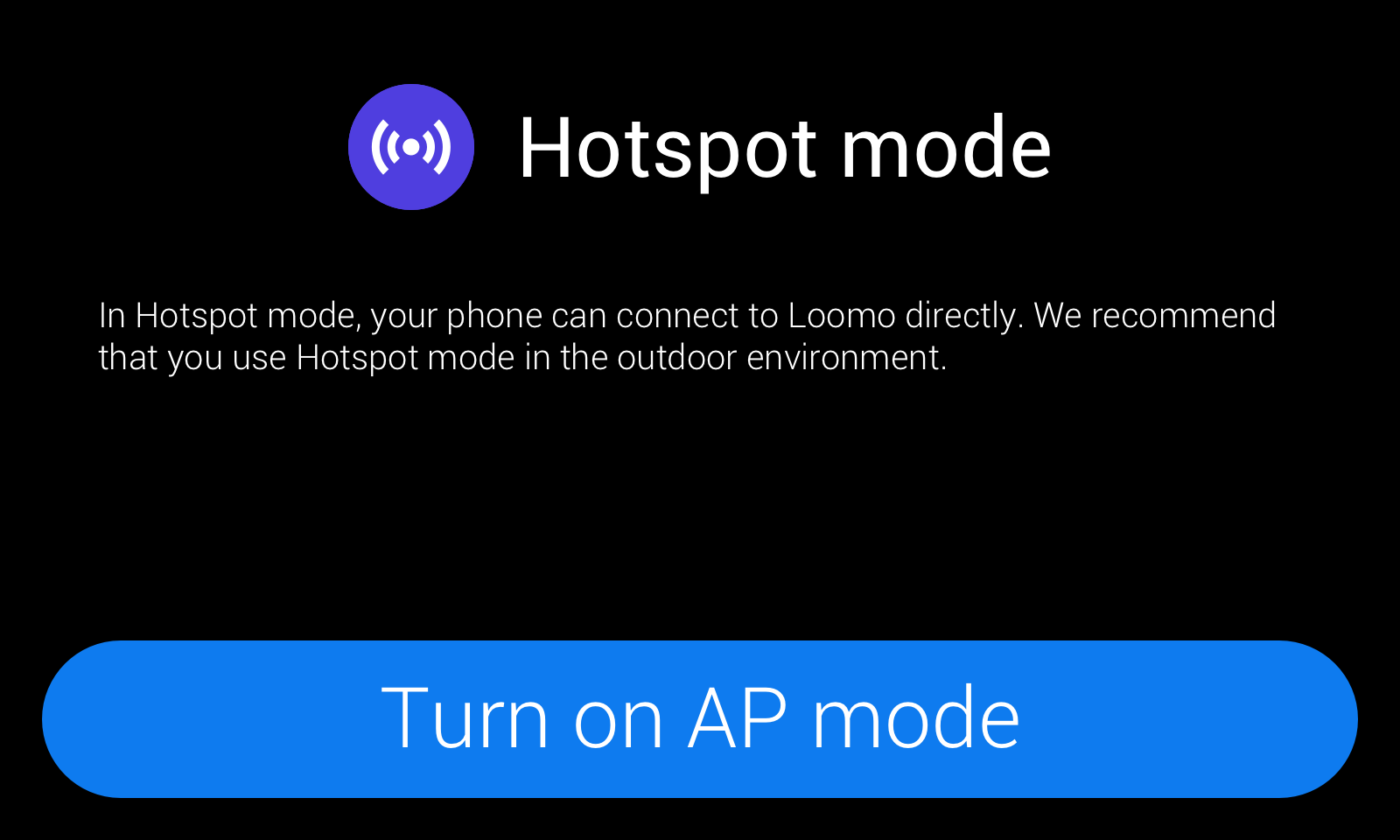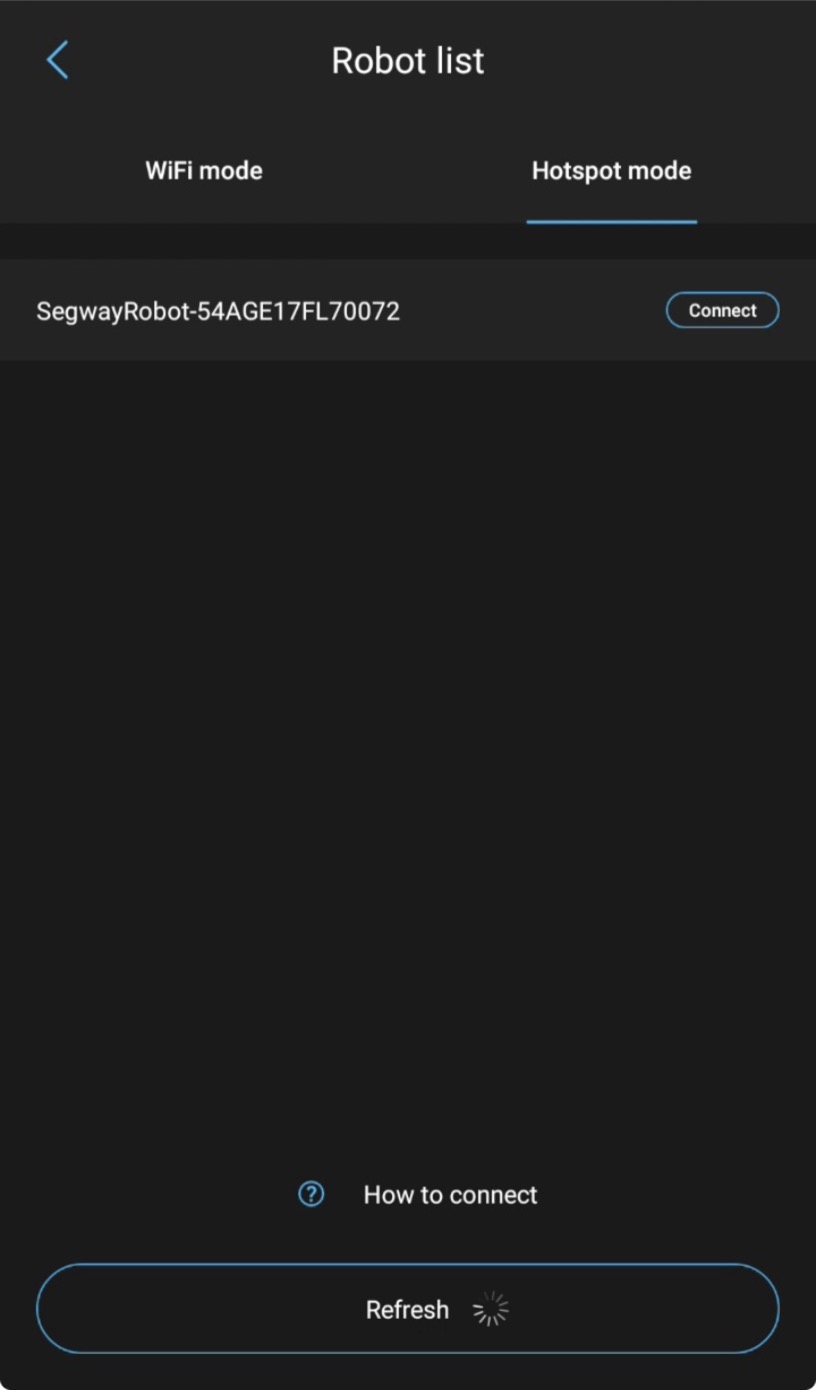 If you are selecting the hotspot mode connection for the first time, please select the hotspot name that is prompted on Loomo's screen in the Wi-Fi setting of your mobile phone and input the corresponding password. Soon afterwards, you can search your device in the hotspot list of your mobile APP. Click Connect.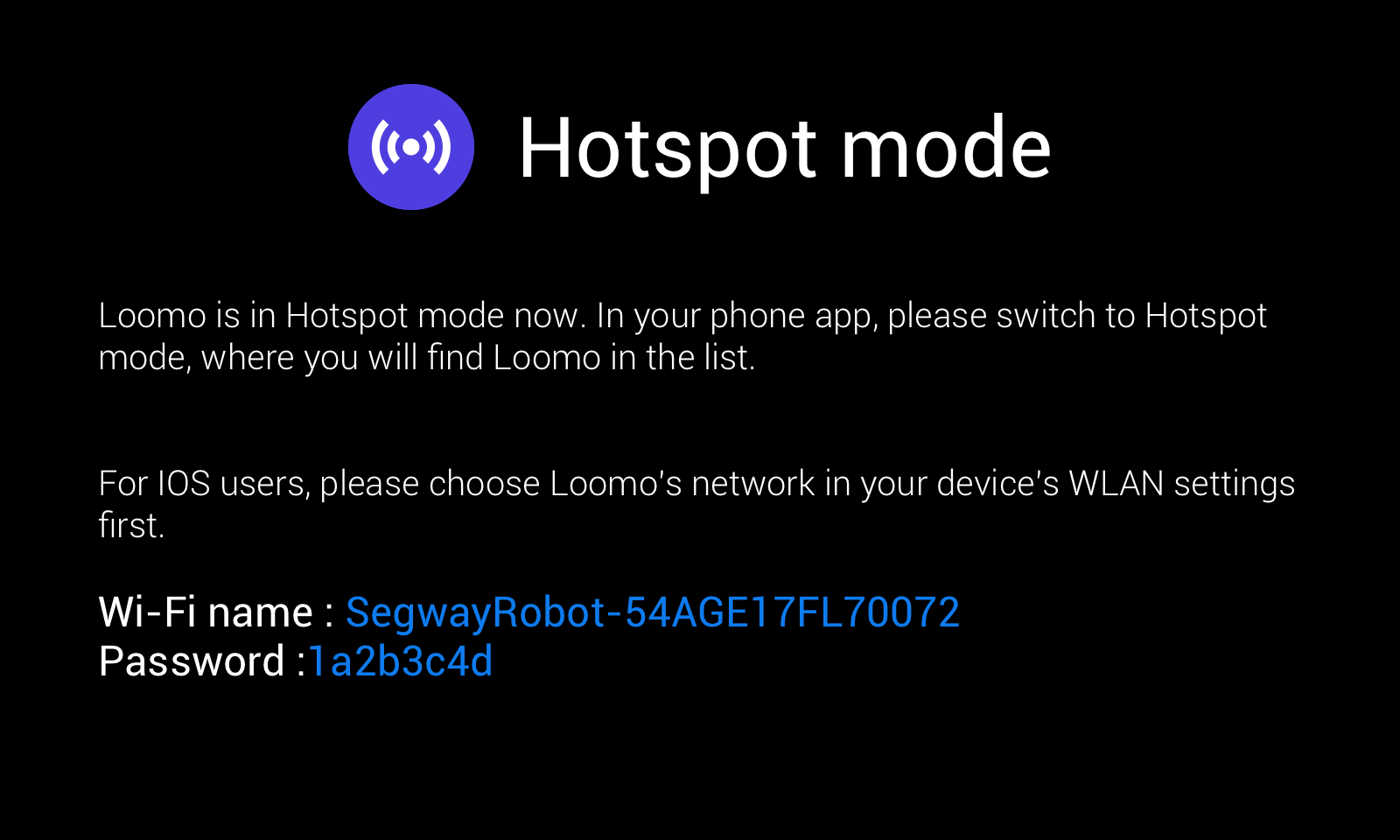 Please note that you can connect to and interact with Loomo normally in the hotspot mode, but Android System mobile phone can not connected to network. Therefore, you can neither bind/unbind your account, nor use other functions such as modifying account information. These require connection to a network. If you want to use the above functions, please switch to the Wi-Fi mode.